On Friday, February 10th, the community of Shipshewana, IN, got together at the Blue Gate Event Center for the Night to Shine event! Night to Shine is a community sponsored event backed by the Tim Tebow Foundation that hosts a prom night for community members with special needs. Over 700 people from all over Michiana gathered together on Friday, with the support from local churches, and created a night to remember for the honored guests and their friends.
In attendance that night was our very own Sales Representative, Yoshie Fuentes, who was invited to volunteer for Night to Shine by one of her best friends, Darbi. Yoshie and Darbi have been friends for over seven years after meeting each other for the first time as teammates on their high school cheer leading team. Yoshie recounts Friday's event fondly, saying, "It is an incredible night for people with special needs to get dolled up and be spoiled. As a buddy, your job is to have a great time with your guest…We were able to enjoy dancing, a limo ride, and many fun photos."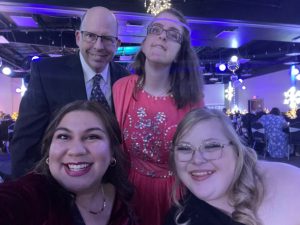 Night to Shine offers a moment of independence for the honored guests. Caregivers and parents are able to step back as friends and volunteers show up and support. This is only possible with the help of a large group of volunteers, and as the event grows year after year, even more volunteers are needed! On the importance of volunteer work, Yoshie shared, "This kind of volunteer work means a lot to me. I am someone who believes in inclusion and diversity and to me this includes race and gender, but also physical and mental abilities. We all deserve to be treated like the person we are, not who someone thinks we should be."
After Yoshie shared her experience with her District Manager, they began brainstorming ways they can all volunteer more as a team this year!
If you would like to learn more about Night to Shine and how to contribute, visit their website here.
Are you an AMP employee interested in volunteering in your local community?

AMP's Volunteer Time Off (VTO) Program provides employees with at least 4 months of active employment the opportunity to dedicate up to 8 hours of AMP-paid working time annually (during standard business hours) to a charitable or non-profit organization serving disadvantaged individuals or nonpolitical civic causes in our communities. Employees using VTO will be paid at their normal pay rate for the VTO hours taken. To apply, please log onto the HR Portal the same way you request paid time off (PTO). Please be sure to provide your supervisor with reasonable notice and the charitable cause to both your supervisor and the HR department for approval. Once approved, you are all set to start making a difference in your community!