AMP Employee of the Month!

Amanda Klein
Amanda has learned and mastered multiple systems, processes, and platforms and then owns those processes and looks for improvements. We are so grateful to have her on our team, and appreciate her ownership of problems and solutions mindset.
Leads By Example.
Amanda shows up for work early and stays late. She is the connection between the sales leaders, training, recruiting, IT, and operations. I can always count on her to help. She takes on tasks with a smile and stays positive no matter what.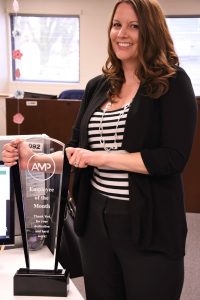 Steps Up, Desire to Learn.
She is an amazing teacher, a compassionate employee, and friend to all. Always asking and ready to learn new things — shows what a hard worker she is with an amazing character.
---
Congratulations Amanda on earning AMP Employee of the Month!