Team North Florida hosts Team Development Meeting and Dinner
Our team in Jacksonville, FL created vision boards at our February Team Meeting on everything we want to achieve personally and professionally this year.
We also started a fitness accountability group chat to make sure everyone is on pace for their fitness goals. Personal and Professional Development is happening out here with our North Florida/South Georgia Team! We are AMPed up for 2020!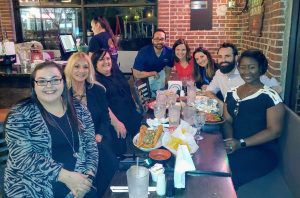 We kicked off March with a Team Meeting and Dinner – both were very successful! Gathering the team together for forward leaning Q1 goal creation and, of course, fun times and laughs.
District Manager, Miranda O'Laughlin says: "Couldn't be more proud of this team right here! 5 weeks to go to hit our Q1 goal! We got this!"