This August, AMP expanded all the way out to Olympia, Washington — 2,058 miles from our corporate office in DeKalb, Illinois! This expansion wouldn't be successful without the hard work and dedication from Austin Oppenheimer, AMP's Market Expansion Specialist for the state of Washington.
Austin says, "Picking up and moving from Iowa to Washington has been fantastic for both my personal and professional growth. Since moving out I have been able to partner with 40 businesses in the first two months and help them with their digital marketing needs! I am now beginning to build our team in Washington, alongside Stephanie Conlin and Chad Campbell, and we have our first hire on board scheduled to start mid-October! I plan to have 5 reps on board with me by the end of 2021 and begin to expand the AMP market in the Pacific Northwest.
Helping AMP expand our reach to the west coast is a huge badge of honor that I can carry for the rest of my career. I am so thankful that I have been given this opportunity, and am proud that I have been entrusted by my mentors to plant our flag in the state of Washington!"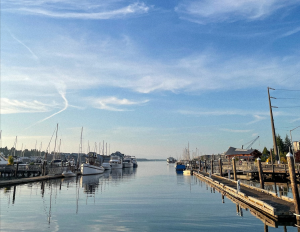 Pictured above: beautiful Olympia, WA
3,058 miles from Olympia lies our St. Augustine, Florida market that we opened back in 2017.
Miranda O'Laughlin, a trailblazer for AMP's Florida market, said this about her experience, "Moving from Wisconsin to Florida to expand our region was extremely exciting! It opened up more opportunities not only for American Marketing & Publishing but for Florida business owners as well. I am SO grateful I was a part of the expansion and I owe all of it to VP Melinda Huza who encouraged and believed in me. I remember selling my first business in St. Augustine in April of 2017 and thinking 'this is the first of MANY Florida sales to come'!"
AMP opened our St. Louis, Missouri market in 2020 and this year we expanded our reach to Southern Tennessee, Alabama, and Hattiesburg, Mississippi. We're looking forward to helping more small business owners across the country with our marketing solutions and are thankful to have an ambitious, customer-focused team behind us.