Congratulations to Shannan Hayden on her 15 Year AMP-iversary!
Let's send a big, warm congratulations to Shannan Hayden on 15 AMP years! Shannan joined AMP in 2005, after finishing college. She joined the North Region in outside sales. After helping many small business owners in her local Milwaukee area market, Shannan joined the recruiting team. Shannan has been a staple to the recruiting team. Her strong and consistent work to help influence and inspire some of our great names today. She helped form the West Region when we expanded to Iowa, Minnesota, Tennessee, Nebraska. She's been a part of expansion in Florida, Wisconsin, Indiana, Illinois, Alabama and Ohio.
Using rough math, Shannan has brought into the business north of 20 Million Dollars of Revenue over her career and hundreds of amazing sales influencers along the way. She's impacted our company in so many ways through her work in every Region, Division, and even more influential our very own Recruiting Department. Shannan is a leader to us all. We all look up to Shannan who leads by example every day. She leads with daily activity, knowledge of the evolving business, strength and wisdom. Shannan earned the President's achievement award, Hiring Manager of the Year, Business Builder Award, and the Million Dollar Club multiple times throughout her outstanding career. During one of our hardest times this year, it was Shannan who was first to remind our team that we've been through hard times before, and we persevered through those times. She's been an anchor for our team that we are forever grateful for.
Shannan's influence stretches far beyond our company walls. We can all point to her as someone who's inspired us, encouraged us, and taught us along the way. Shannan has also made a lasting footprint on her community and thousands of business owners through her 15 years with AMP. She has touched communities and families all across the US.
We are so thankful for her "lunch-pail" mentality. She's a hard charging, grit-grinding woman. Her greatest accomplishment though is her family. Shannan is an amazing wife to Mike and mother to Evan and Michael Jr. She loves to travel to Florida to spend time with her family and friends. She is surrounded by amazing friends and family in the Milwaukee area. They enjoy spending time on Lake Michigan in the summers. Below is a photo of Shannan and her family last year at Evan's graduation from the military where he served active duty and enlisted for 4 years.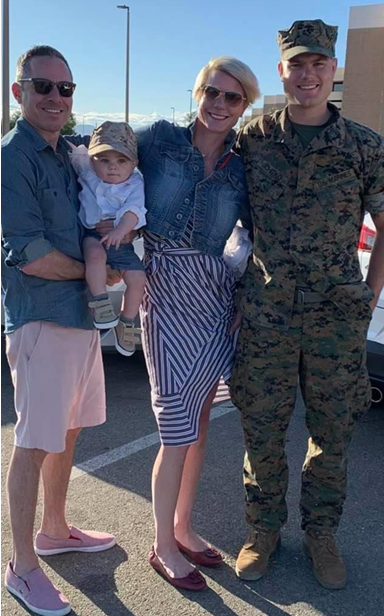 ---
Congratulations and Cheers to 15 Years of Dedicated Service, Shannan Hayden!